FYI: We were just informed about the June 2018 Midwest Uke and Harmonica Camp, sponsored by Elderly Instruments. (The GRÜBS are not affiliated with this camp; just passing along the info.)
---
The all-inclusive weekend offers a packed slate of workshops, performances, and musical camaraderie. We have assembled a world class staff teaching artists, offering our attendees over 45 hands-on workshops. Other camp highlights include evening concerts featuring our teaching artists, as well as informal jams, group strums, and open mic opportunities.
Promising to be the premier ukulele camp in the country, Midwest Uke Camp is an exciting new experience co-produced by Mighty Uke Day's Ben Hassenger and Stan Werbin of world-renowned Elderly Instruments.
Based on the long-running Midwest Banjo Camp, our uke camp combines the excitement of the Mighty Uke Day festival with the immersive workshop and communal activities of banjo camp. Activities include: workshops of all levels, instructor concert, open mic, group strums, and plenty of time for informal get-togethers and jams. Instructors slated to appear include: Sarah Maisel, Craig Chee, Kimo Hussey, Paul Hemmings, Lil' Rev, Jim Beloff, Gerald Ross, Brian Hefferan, Andy Wilson, Rachael Davis, and Frank Youngman.
Located on the beautiful grounds of Olivet College, Midwest Uke Camp will be an encompassing weekend of ukulele study and fun! Visit our website at: http://www.midwestukecamp.com to find out more and to register.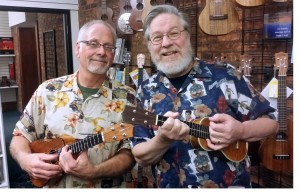 Please email us at: midwestukecamp@gmail.com if you have any comments, questions, or issues. We
look forward to seeing you in June!
Ben & Stan